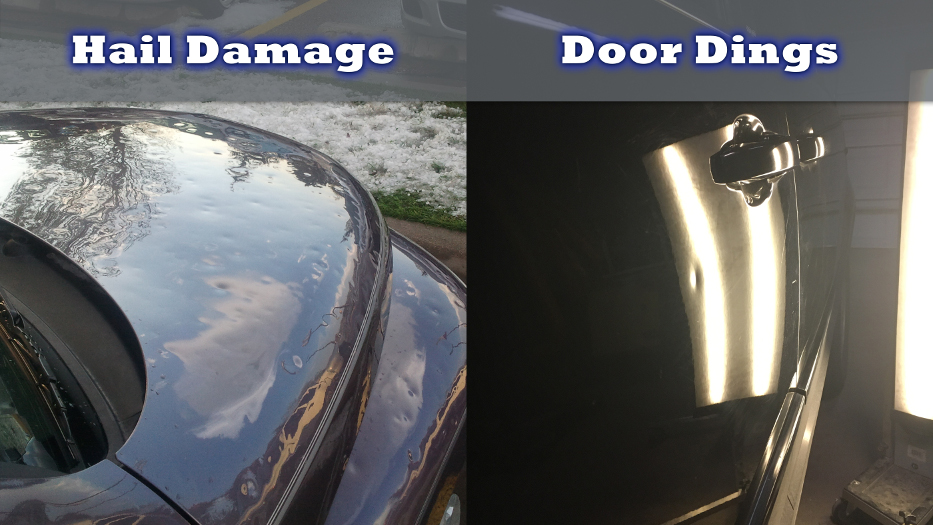 Paintless Dent Repair (PDR) – Is the method of gently messaging small dents out of vehicles, one at a time, with specially designed tools from the backside of the panel, without affecting the paint finish.
We are committed to making your PDR experience easy and convenient. Our Master Certified Technicians are highly skilled and have years of experience.
Mobile and Shop Location Services

Door Dings – Those pesky little parking lot dents. We fix these dents often fast enough for you to wait while performing the repairs. Cheaper than you expect!
Minor Dents – Often times these dents are oddly shaped and caused by a small object or minor collision. Repairs are done at a fraction of the cost of conventional Body and Painting.
Hail Damage – Your once beautiful car now looks like a dimpled darling! PDR is the least invasive, most efficient and cost effective process for hail repairs. Many cases are combined with Conventional Body Shop repairs. Hail Damage Repairs is our specialty!
Got hail damage? Make a Claim
Call your insurance agency and report the storm damages. You will then be contacted by your insurance carrier to schedule an appointment for an estimate. Be sure to wash your vehicle prior to any inspection. This allows adequate visuals of all the damages.
Schedule your repairs with Dentbusters
After the insurance inspection contact Dentbusters for your repairs appointment. Please provide us with a copy of the estimate prepared by your insurance adjuster. We can help with rental car arrangements and the picking up and dropping off of your vehicle if needed.
You can have the confidence knowing your vehicle is in good hands with repairs that come with a Limited Lifetime Warranty!